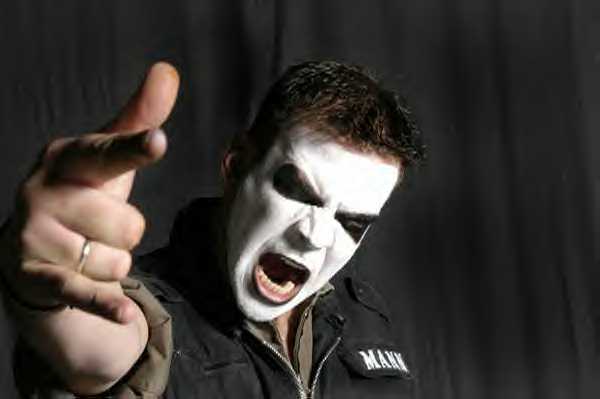 INTERVIEW WITH JMANN
PRP: How and when was the band formed?
jmann: The band was formed in 1993. Everyone in the band was in other bands that all practiced in the same building. Late at night after all the bands were done jamming a few of us stuck around, and that became Mushroomhead.
PRP: And how has the lineup and sound changed through the years?
jmann: I think the songwriting has matured a bit, but for the most part the sound stayed pretty much the same.
PRP: How would you describe the state of the Cleveland heavy music scene?
jmann: The state of the current heavy music scene is pretty strong with bands like Ringworm, Runt, NDE, Chimaira, and a few others. It's just a shame that this scene as well as most others get turned into competitions. Bands need to be more supportive of one and other.
PRP: How do you feel about fellow Cleveland bands SW1TCH and Chimaira recently being signed?
jmann: I like the guys in Chimaira. They're good people and a good band. Unfortunately they're not signed yet, but I'm sure they will be soon. As for SW1TCH, I'm unfamiliar with them. I don't think they play out very often so I haven't had a chance to check them out yet.
PRP: The spotlight was thrust on you guys when it was claimed that Slipknot ripped off your image. How do you now feel about that and are you at all bitter about their current success?
jmann: I'm not bitter about their success at all. I wish them the best. I don't think they ripped us off either. Theatrical shows have been happening in music for years. Neither band is the first or the last.
PRP: Can you shed any light on what went down at the Slipknot Cleveland show in which fans of your band threw lighters and rolls of quarters at slipknot?
jmann: Fortunately I wasn't there. I would have been pretty disgusted to see something like that go down in the name of our band. Those are the
judgmental preconceptions and actions our music speaks against. No one should be assaulted for expressing themselves.
PRP: A lot of people are going to compare you to Slipknot despite the fact you've been doing your thing a lot longer. Do you feel this will hinder you at all?
jmann: It might hurt. It might help. I don't think anyone's quite sure yet.
PRP: How would you describe your band's sound to someone who has never heard you before?
jmann: Heavy guitars, theatrical keyboards, two vocalists that are very different. I don't know.
PRP: Can you tell us a bit about your image and what purpose it serves for the band?
jmann: I'm still not quite sure what our image is. I think that's where the masks come in. They tend to hide our images creating an image all it's own. There's definitely a sexual tension with a hint of psychological violence.
PRP: What bands would you list as your musical influences?
jmann: Black Sabbath, Faith No More, Meshugah, Slayer, Bad Brains, Negative Approach, Bjork, Alec Empire, Mr Bungle, 2 Pac, Wesley Willis, Charles Manson, Angelo Badalementi (I don't know how to spell his name, but he scores a lot of David Lynch's work).
PRP: What bands are you currently enjoying the most lately?
jmann: Right now I'm listening to Tenacious D. and Mindless Self Indulgence.
PRP: And who would you most like to tour with?
jmann: Britney Spears. That way I could make her aware of how much she's in love with me.
PRP: Do you plan on touring the U.S. extensively anytime soon?
jmann: We hope to play as much as possible this Spring/Summer to support our album.
PRP: You intend to put out a home video at the end of this year, what kind of footage can we expect?
jmann: Most of the footage will be live performances, along with news clips, interviews, and studio footage. We have about 250 hours of tape to sort through so it probably won't be released until Summer 2001.
PRP: What can people expect from the upcoming album titled "XX" ?
jmann: The new album is going to be a cross section of our career up to this point. It's going to contain material from our three independently released albums.
PRP: And can you see yourselves breaking out nationally with this effort?
jmann: Hopefully. If not it's just not meant to be. This is our band, these are our songs take it or leave it.
PRP: If a senior citizen ran into your house, dropped his pants and started dragging his ass around on your carpet like a dog, would you kick his ass,
even though he's elderly and frail?
jmann: Nah, we'd probably give him a job.
PRP: What direction would you prefer the band took to establishing a fanbase, like say MTV or constant touring and such?
jmann: Whatever works. We're not trying to be stars or anything. We just enjoy writing and performing music. Hopefully people will enjoy it also. If they don't they don't. Life goes on.
PRP: You have sold out many of the larger venues in your area and supported well known acts, what do you feel has been the high point of your career
thus far?
jmann: Fortunately there have been quite a few high points. Sold out shows, good record sales, awards, press, etc. But I'd have to say the high point is always when a new album comes out. Just being able to record and release our vision is a thrill.
PRP: Is anyone in the band in any side projects?
jmann: Yes quite a few actually. (216) which is a metal-core band. 10,000 Cadillacs which is a rap project who's new release features Bizzy Bone from Bone Thugs n Harmony. Crossfader which is a techno-metal band. State Of Conviction which is hardcore. Detroit Ave. which is techno.
Members have also recorded with Hatrix, Unified Culture, In Cold Blood, Ritual, Runt, and Integrity 2000.
Skinny and I also have an independent record label that releases most of the bands above. The label is called SMDC. For more information go to
dogcollarproductions.com which is now www.smdcrecords.com
PRP: Any specific unsigned bands out there who you think should be signed?
jmann: See bands listed above. Also Runt, Ringworm and Schnauzer.
PRP: That's about it, any shoutouts or shameless self-promotion?
jmann: Thank you for yoor time. We'd also like to thank all our fans, Props, Blue Torch, Nate Wessel, Steve Beganyi, Nick Beaudoin, and everyone supporting the underground. Stay down.