WHATS GOING ON IN THE MUSHROOMHEAD CAMP
mushroomhead album voted best album of 2002 by the readers of metal hammer
mushroomhead in the studio to start recording the follow up to xx
could these be some tracks on mushroomheads new album sun doesn`t rise, fall and break me down?????
mushroomheads new album to be called XIII (13)????
mushroomheads album (13) tracklist:
1.Kill tommorow
2.Sun doesn`t rise
3.Mother machine gun
4.Nowhere to go
5.Becoming cold (216)
6.One more day
7.The dream is over
8.The war inside
9.Almost gone
10.Eternal
11.Our own way
12.Destroy the world around me
13.Thirteen
shrooms new album to be released on october 14th
mushroomhead on tour during november and december check on the shroom official site for tour dates
shrooms music to be found on the soundtrack to freddy vs jason and texas chainsaw massace also find music done by shroom on head bangers ball cd
mushroomhead have there new video out for sun doesn`t rise
mushroomhead on tour though april and may check out mushroomhead.org to find the excact dates they will be preforming
""YOU HAVE BEEN BROUGHT HERE FOR A REASON BE IT FATE OR ETERNAL TREASON""
MUSHROOMHEAD SIDE BANDS
(216)
10,000 cadillacs
canister
cross fader
dead even
detroit avnue
downfall of society
hatrix
in cold blood
integrity 2000
kung fu grip
moko
purgatory (NI4NI)
ritual
runt
s.o.s
state of conviction
the alter boys
trelleborg
unified culture
white heat
FORMER BAND MEMBERS
DINNER-RICH MOORE-(GUITAR)
J.J. RIGHTEOUS-JOHN SEKULA-(GUITAR)
ROXY-JESSICA HANEY-(DANCER)
MR. MURDERNICKEL-JOE KILCOYNE-(BASS)
DJ VIRUS-JOE LENKEY-(TURN TABLES)
CHAMBERLAIN-???-(DANCER)
MUSHROOMHEAD PRESS RELEASE

October 24, 2003 Cleveland, OH - "XIII", the latest release from Universal recording group, MUSHROOMHEAD, makes it debut this week on the Billboard Top 200 Albums Chart at #40. "XIII" is also the highest debuting release this week on Billboard's Alternative Albums Chart (#12) and Hard Rock Albums Chart (#7). Already receiving critical acclaim as the band's best work, "XIII" mixes the psychotic thrash riffs, rave beats, thundering keyboards and battling vocals that are Mushroomhead's trademark. The album's first single, the melodic and punishing "Sun Doesn't Rise," has seen exceptional response at rock radio nationwide, as well at MTV & MTV2, Fuse & Much Music with a haunting video directed by Vincent Marcone. The track also appears on the Freddy Vs Jason Soundtrack (Roadrunner).

Called "a stunning thesis...subtle and brutal...an entire life struggle in 57 minutes," by Metal Edge Magazine "XIII" was mostly self produced by Mushroomhead drummer and ringleader Steve Felton aka Skinny along with infamous producer Johnny K (Disturbed, Soil, Machinehead) on several tracks. The album was mixed by Matt Wallace (Faith No More).

At once surreal and vivid, intense and intelligent--and impossible to ignore both aurally and visually, Mushroomhead has seen rising success since the release of their debut, "X" in 2001. From Howard Stern to Ozzfest worldwide and shows with Godsmack, Seven Dust, Meshuggah, to MTV2 Headbanger's Ball to the old-selling soundtracks "Scorpion King" and "XXX", Mushroomhead has clawed their way out of the rough and tumble streets of Cleveland where they formed ten years ago. Channeling intense aggression, an air for theatrics, a taste for the erotic, and diverse musical ideas from 8 band members, they have created totally unusual and fully compelling music which led Billboard to say " some [like] Mushroomhead are altogether breaking the mold."

The band which features Skinny on drums, J Mann - lead vocals, Jeffrey Nothing - lead vocals, Schmotz on keyboards, Pig Benis on bass, Gravy and Bronson on guitars, Stitch - Samples are already prominently featured in Cleveland's Rock N Roll Hall of Fame's Ohio Music Exhibit alongside Marilyn Manson, Devo and Macy Gray.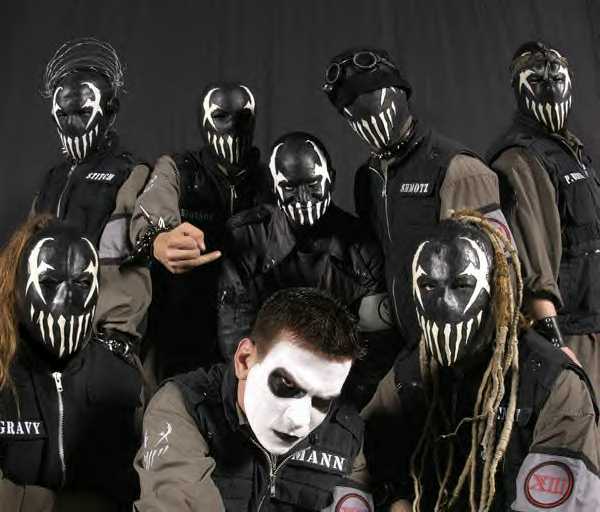 MUSHROOMHEAD